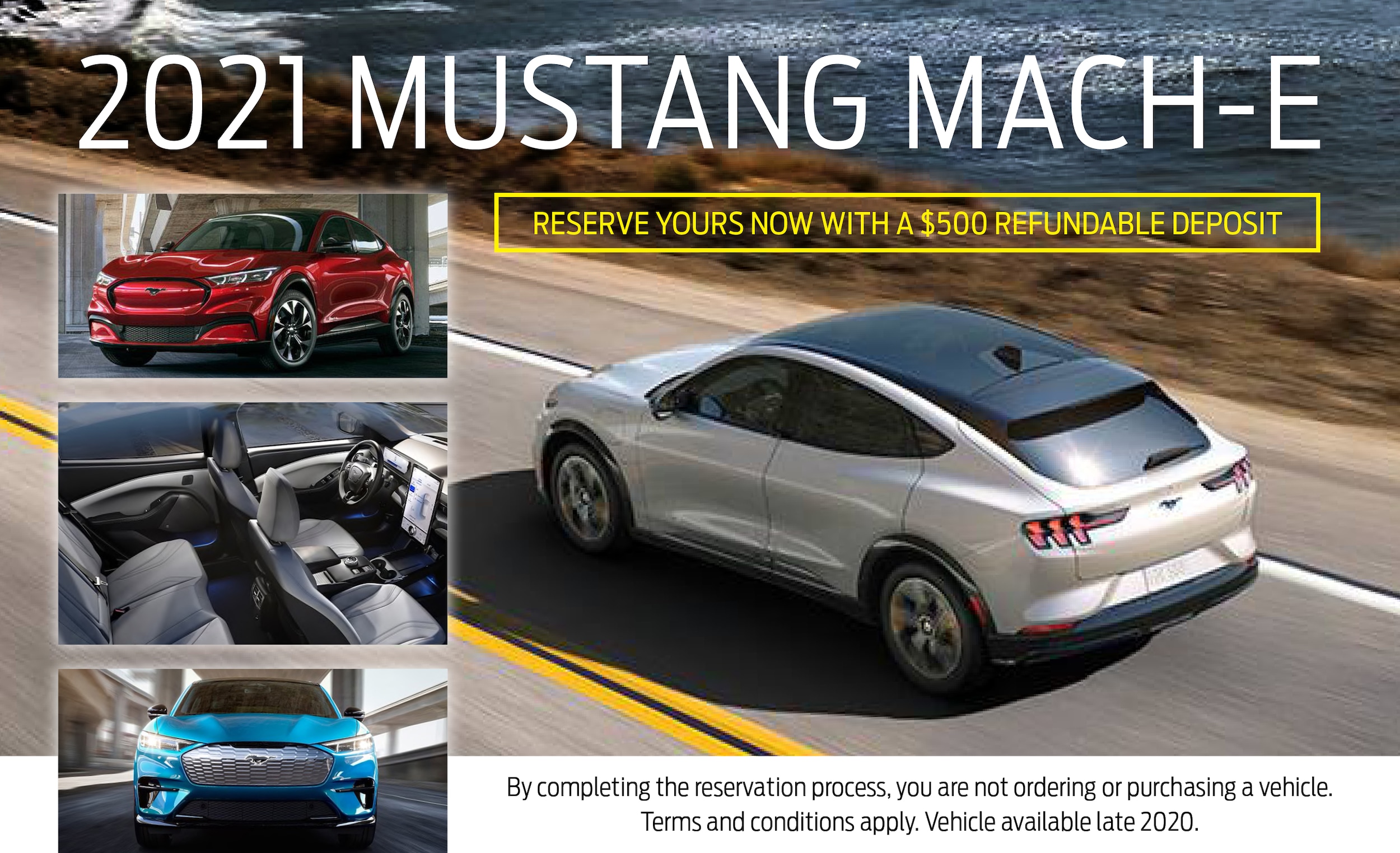 Meet the All-New 2021 Ford Mustang Mach-E!
Just one look at the 2021 Ford Mustang Mach-E shows that it's something special. The Mach-E is a welcome addition to the Ford Mustang family, which now expands after more than 50 years. The Mach-E makes a grand debut on the market with several in-demand features, and most notably, it flaunts a crossover SUV body with sleek coupe-like lines.
Even in a larger size it offers the same exhilarating performance as its Mustang predecessors, but with more versatility for everyday needs. In addition, the Mach-E proudly offers an electric engine for energy savings and a reduced environmental impact. Along with an impressive amount of power from three engine options, you'll find a brand-new infotainment system, class-leading technology, and plenty of comfort with the 2021 Ford Mustang Mach-E EV.
Mustang Mach- E Highlights
The Mach-E certainly attracts attention for its mechanical system, which offers a range of options for the driver. The base engine creates about 190 kW (255 HP) and has a variable torque capacity, depending on your drivetrain choice, which is either rear-wheel drive or electric all-wheel drive. The mid-level electric engine creates up to 332 HP and produces 248 KW. The third engine, standard on the GT only, creates 342 KW and over 450 HP for an impressive performance rating of 0-60 MPH in just three seconds. The electronic all-wheel drive drivetrain is paired with your choice of three selectable driving modes for a customized driving experience.
While the Mach-E's performance amenities are impressive, it also stands out for its comfortable interior and sharp looks. Signature LED lights are standard across the board, and the wheels range in size from 18 to 20 inches with a customized finish for each trim. A foot-activated liftgate is standard on all trim, excluding the base model. Inside, you'll find Ford's Co-Pilot360 safety system on all trims. The GT can be accentuated with exclusive suede seats, while the CA1 gets unique design elements. All trims have a 15.5-inch touchscreen.
Available Models
With four standard trims and a special variant called the GT, you have many choices with the 2021 Ford Mustang Mach-E. Choose from the base Select model to the extravagant California Route 1 for your optimal Mustang match. The 2021 Ford Mustang Mach-E also comes in several other trims, including the mid-range Premium and First Edition.
If you'd like updates or more information on the 2021 Ford Mustang Mach-E, don't hesitate to contact us for more details today.