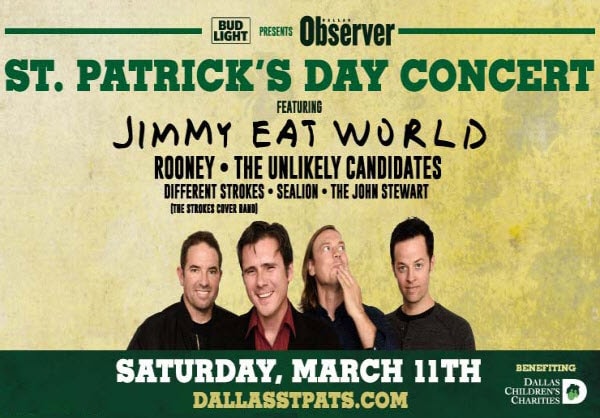 Don't miss the biggest St. Patrick's celebration in the Southwest! With over 90 parade floats gathered in a giant, high-energy procession and a huge concert to continue the revelry, Dallas' St. Patrick's celebration is not to be missed.
On Saturday, March 11, 2017 beginning at 11 a.m., the city's annual St. Patrick's parade kicks off on Greenville Avenue. The parade travels two miles to Yale Boulevard and Central Expressway, and thousands of people gather to spectate and participate in the merriment. Check out the parade route below!
A free and family-friendly festival carries on the fun with food trucks, Celtic-themed activities and tons of exhibitors. In addition to the many local bars and restaurants along Greenville Avenue, you can also find a wide selection of Irish beer and other spirits at the local beer garden.
If you're a music fan, one of the biggest highlights of the day is Dallas Observer's St. Patrick's Day Concert, which features Jimmy Eat World, Rooney and The Unlikely Candidates, among other artists. Tickets range from $15-85 and you must be 21 or over to attend.
As you can tell, there's going to be lots of entertainment all day long! Whether you wear a touch of green or go fully decked out in beads and clover accessories, you'll feel the luck and joviality of the Irish at this year's St. Patrick's extravaganza.
Pro tip: Parking can be tough to find. Taking public transit or a service like Uber is recommended.