Although transmissions don't typically need to be serviced as frequently as other automotive components, such as engines or brakes, they are every bit as important in ensuring the safe operation and longevity of your car. Transmissions are one of the key components of your vehicle, enabling your car to operate safely at many different speeds, inclines and conditions and providing the means of both strong acceleration and optimized engine performance at highway speeds.
Despite the fact that many car manufacturers don't recommend that transmission fluid should be changed until as many as 100,000 miles have been put on the car, it is still extremely important to adhere to the recommended maintenance schedule. Catastrophic transmission failure is one of the main culprits behind the costliest automotive repairs. And for older vehicles, a bad transmission can often spell the end of the line for the car, consigning it to the junkyard.
When Should I Change My Transmission Fluid?

Your car's owner's manual should have detailed instructions on when to get your transmission fluid changed. Unfortunately, there are no hard and fast rules regarding when transmission fluid should be changed. Factors such as average ambient temperature where the car is being driven, average load imposed on the drivetrain, including frequency and severity of accelerations and the vehicle's age are all factors that come into play when deciding on an optimal maintenance schedule for your vehicle.
Do Driving Conditions Affect Transmission Longevity?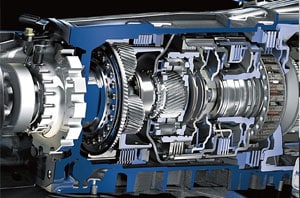 As a rule of thumb, the harder you drive your car and the hotter the weather in your area tends to be, the more often you should get your transmission fluid changed. In extreme cases, CVT transmissions that are used hard may need to have fluid changes every 15,000 miles. In other cases, manual transmissions that are mostly driven on the highway in cool climates may be able to go up to 150,000 miles without changing the fluid.
Could I change my transmission fluid myself?
Unlike changing oil, changing out transmission fluid is typically a serious mechanical job that can take multiple hours. It often involved lifting the car into the air on a jack and may require that the engine be turned on while the car is lifted. Servicing transmissions, including merely changing transmission fluid, is, therefore, not a job for non-professionals.
While there are a few non-professional mechanics with the skills and tools to change their own transmission fluid, our techs can simultaneously use the fluid change to detect any serious problems before they get truly expensive. Call us to schedule an appointment today.