Today's auto shoppers are demanding. They want the best in safety, technology, luxury, and convenience, and for the best possible deal. This creates a challenge for automakers, but it also entices them to make the best vehicles possible. Traditionally, many automakers have filled a niche in the market, whether it's safety, luxury, technology, or performance. Ford has historically been strong in the area of reliability and quality. Now, it also rivals the best for safety and technology. This is great news if you're in the market for a Ford. Across all categories, there's much to look forward to.
Cutting-Edge Safety
Standard safety features like seat belts and airbags still do a lot to protect occupants in case of an accident. But the latest Ford vehicles, have revolutionary safety technology designed to prevent accidents from happening in the first place. These features are called driver-assist aids. Once reserved for luxury vehicles, you'll now find them on most cars. Ford is one company that offers a generous array of driver-assist technology.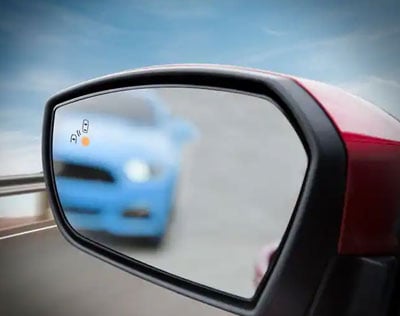 In vehicles like the Fusion, you'll find forward-thinking technology that includes blind-spot monitoring with rear cross-traffic alert, lane-keep assist, and pre-collision avoidance with an automatic emergency braking mechanism built in. Cruise control, which is another highly desirable consumer item, is also available in the Ford family. Along with interior driver aids, Ford vehicles are safer on the outside too with features such as rain-sensing windshield wipers, automatic headlights, and LED bulbs for optimal visibility. Ford trucks have modern safety technology that makes towing easier and safer.
The Latest Technology
Ford vehicles are among the best when it comes to updated technology and conveniences. Standard across the Ford lineup is the innovative infotainment system. In a user-friendly layout, it puts audio controls, app connectivity, and smartphone support at the touch of your fingers. Additional features such as navigation are available. On higher trim levels you have the option of getting more advanced technology too like satellite radio and a higher-quality sound system.
Creature Comforts and Conveniences
Researchers at Consumer Reports say that some of the most desirable amenities among consumers are heated seats, seats with lumbar support, and a moonroof. If you're shopping for a Ford, you'll find these features and more. The 2019 Fusion, for instance, offers a two-way adjustable driver's seat with lumbar support. It even gives you leather surfaces for optimal comfort. The seats are heated and cooled. When not in use, they can easily be folded down to create even more cargo space. Climate control, another standard amenity, includes a single-zone or dual-zone configuration in most trim levels. There is also an air filter in the air conditioning system to make the air in the cabin especially clean.
Choice of Drivetrain
Given the high demand for SUVs among today's consumers, it may not be too surprising that the most popular drivetrain is four-wheel drive. Four-wheel drive is offered among Ford SUVs and trucks, including its ever-popular F-Series. Your Ford is also available with an automatic transmission, which is also popular, and it may come with a choice of either a gasoline or hybrid engine.
With more car options and accessories than ever before, car shoppers today are increasingly particular about the features they get in their cars. But at a time when demand is at a premium, Ford easily follows suit. From the Fusion to the Escape and the F-150, we invite you in and see what your favorite model offers.