What's new with the 2019 Ford F-350?
The 2019 Ford F-350 features a few improvements from its predecessor. Each of the different trims of the 2019 F-350 will allow customers to enjoy new enticing features. You can expect the Lariat Sports Package to have a spray in bed-liner, black exteriors, and 20-inch wheels. New infotainment features have also been integrated into the 2019 F-350 highlighted by the replacement of the B&O play stereo system with the premium Sony Stereo that is more powerful and technologically superior. Many parts of the 2019 Ford F-350 is made using aluminum, which means that its weight will be significantly lower compared to the 2018 model. For enhanced comfort, the new F-350 provides more space in terms of headroom and legroom to make your driving experience comfortable.
2019 Ford F-350 Trims and Features
The 2019 Ford F-350 is available in six different trims to provide different driving experiences. The trims are King Ranch, Platinum, XL, XLT, and the Limited trim. Features specific to the XLT trim include an under seat storage, 18-inch aluminum wheels that are limited to SRW, cruise control, heated exterior mirrors, power windows, and a power door lock with remote control. The Lariat trim has an auto dim feature, power leather seats, steering with a leather coating, rear windows with defrost, SYNC, power tilting and adjustable pedals, and a remote ignition system. The 2019 Ford F-350's King Ranch trim comes with auto high-beam control, a HD radio system, illuminated running boards, heated and ventilated front seats, a navigation system, Intelligence Access, and telescopic steering wheel. Apart from having several features of the King Ranch trim, the Platinum trim has Quad LED lamps for its head and tail lighting, 20-inch aluminum wheels limited to SRW, Blind Spot Information System (BLIS), front seat heating system, and the multi-contour seat massage. The Limited trim come with features such as a towing camera system, a front collision avoidance system, an adaptive cruise control, lane departure warning system, and the twin panel sunroof.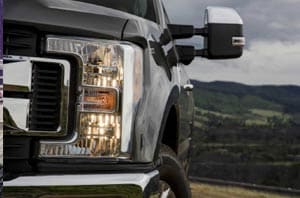 2019 Ford F-350 Horsepower
To ensure that you enjoy a powerful haul, the 2019 Ford F-350 is available in a 6.2 L V8 engine with a six-speed transmission as standard in all its trims. This model also gives you the option to enjoy the power of a 6.7L V8 turbo-charged diesel engine. You can expect the standard 6.2 L V8 engine to provide 385 horsepower and a torque of 430 lb-ft. The 6.7 L V8 turbocharged diesel engine, on the other hand, has 450 horsepower with its transmission capable of providing a torque of 935 lb-ft. It also has a TorqShift feature that enables a driver to drive in either tow or haul mode.
2019 Ford F-350 Safety
The 2019 Ford F-350 features standard safety features such as side impact, overhead, and front impact airbags. The vehicle's stability control system has been enhanced to allow it to automatically detect if handling limits are exceeded and decelerate without any involvement of the driver. This assures you of safety whenever you are driving the pickup.