Our mission at Westway Ford is simple: We want to provide you with absolute customer satisfaction from start to finish by giving you the best Ford purchasing experience possible. As a five-time Ford President's Award recipient for customer service excellence and quality assurance, we truly believe that shopping with Westway Ford is the Best Way. As your local Dallas and Fort Worth Ford dealer, our continued success is predicated upon your continued happiness. For nearly 35 years, we've served North Texas with a comprehensive inventory of new Ford cars, trucks and SUVs, a leading Ford auto repair and maintenance center, and a great selection of quality used cars from a variety of automakers like Ford, Toyota, Nissan, Chevrolet, Honda and more. We recently renovated our facilities to feature a state-of-the-art showroom, service bays and waiting area, complete with comfy couches, Wi-Fi and an in-house café - be sure to stop by and see all the work that's been done!
Located in the DFW area at 801 W. Airport Freeway in Irving/Las Colinas, Westway Ford is more than just a Ford dealership - we're a member of the community! Barton Hankins, our GM since 2007, has formed a strong relationship with the city of Irving/Las Colinas by establishing our dealership as a community partner with the Irving School District (ISD) and other local groups. We sponsor school events like Drive One 4 UR School and we donate to Irving School District athletic programs on a regular basis. We also get involved by sponsoring and holding events like the Westway Ford Dash for Dignity 5K to raise money for adults with disabilities; various programs at Highlands School; and a sponsorship with the Dallas Sportsplex. We want to share this information with you because we live and work here too, and nothing is more important to us than the continued success of our community and the trust they put in our dealership.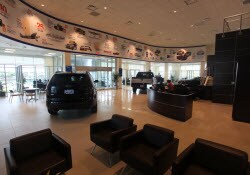 "We are in the people industry, they entrust their safety and the safety of their families and loved ones with us - we don't take that lightly. We treat people well, because they trust us, and they deserve to work with trustworthy people," said GM Barton Hankins.
Now that you know what we do, we'd like to help you find your next Ford car, truck or SUV. Our website is full of helpful research tools designed to put you in the driver's seat when it comes to selecting your next vehicle. Take a look at some Ford reviews for the most complete set of information and comparison data that you'll find anywhere in the DFW area.
We'd also like to share some information with you on our Westway Ford auto repair and service center. With 20 different service bays, highly trained Certified Ford Technicians, a Quick Lane Center, a collision body shop and an Enterprise rental car center, we have the resources to handle anything from Ford scheduled maintenance and oil changes to complex collision bodywork and major car repairs. From A to Z, Westway has what you need for your Ford in Texas.
Westway Ford is dedicated to providing you with what you want: a rugged, dependable Ford at an affordable price with none of the hassles you may have experienced while shopping with other Dallas Ford dealers. Welcome to the all-new Westway Ford, where everything but the name has changed!